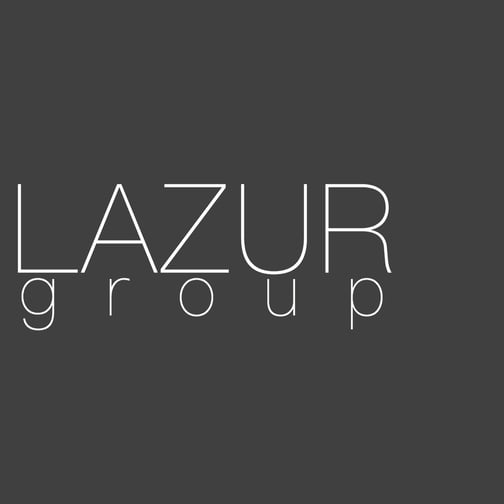 Terms and Conditions
Welcome to Lazur Group!
These terms and conditions outline the rules and regulations for the use of LAZUR GROUP's Website, located at https://www.lazurgroup.com.
By accessing this website, we assume you accept these terms and conditions. Do not continue to use Lazur Group if you do not agree to take all of the terms and conditions stated on this page.
Cookies:
The website uses cookies to help personalize your online experience. By accessing Lazur Group, you agreed to use the required cookies.
A cookie is a text file that is placed on your hard disk by a web page server. Cookies cannot be used to run programs or deliver viruses to your computer. Cookies are uniquely assigned to you and can only be read by a web server in the domain that issued the cookie to you.
We may use cookies to collect, store, and track information for statistical or marketing purposes to operate our website. You have the ability to accept or decline optional Cookies. There are some required Cookies that are necessary for the operation of our website. These cookies do not require your consent as they always work. Please keep in mind that by accepting required Cookies, you also accept third-party Cookies, which might be used via third-party provided services if you use such services on our website, for example, a video display window provided by third parties and integrated into our website.
License:
Unless otherwise stated, LAZUR GROUP and/or its licensors own the intellectual property rights for all material on Lazur Group. All intellectual property rights are reserved. You may access this from Lazur Group for your own personal use subjected to restrictions set in these terms and conditions.
You must not:
Copy or republish material from Lazur Group

Sell, rent, or sub-license material from Lazur Group

Reproduce, duplicate or copy material from Lazur Group

Redistribute content from Lazur Group
This Agreement shall begin on the date hereof.
Parts of this website offer users an opportunity to post and exchange opinions and information in certain areas of the website. LAZUR GROUP does not filter, edit, publish or review Comments before their presence on the website. Comments do not reflect the views and opinions of LAZUR GROUP, its agents, and/or affiliates. Comments reflect the views and opinions of the person who posts their views and opinions. To the extent permitted by applicable laws, LAZUR GROUP shall not be liable for the Comments or any liability, damages, or expenses caused and/or suffered as a result of any use of and/or posting of and/or appearance of the Comments on this website.
LAZUR GROUP reserves the right to monitor all Comments and remove any Comments that can be considered inappropriate, offensive, or causes breach of these Terms and Conditions.
You warrant and represent that:
You are entitled to post the Comments on our website and have all necessary licenses and consents to do so;

The Comments do not invade any intellectual property right, including without limitation copyright, patent, or trademark of any third party;

The Comments do not contain any defamatory, libelous, offensive, indecent, or otherwise unlawful material, which is an invasion of privacy.

The Comments will not be used to solicit or promote business or custom or present commercial activities or unlawful activity.
You hereby grant LAZUR GROUP a non-exclusive license to use, reproduce, edit and authorize others to use, reproduce and edit any of your Comments in any and all forms, formats, or media.
Hyperlinking to our Content:
The following organizations may link to our Website without prior written approval:
Government agencies;

Search engines;

News organizations;

Online directory distributors may link to our Website in the same manner as they hyperlink to the Websites of other listed businesses; and

System-wide Accredited Businesses except soliciting non-profit organizations, charity shopping malls, and charity fundraising groups which may not hyperlink to our Web site.
These organizations may link to our home page, to publications, or to other Website information so long as the link: (a) is not in any way deceptive; (b) does not falsely imply sponsorship, endorsement, or approval of the linking party and its products and/or services; and (c) fits within the context of the linking party's site.
We may consider and approve other link requests from the following types of organizations:
Commonly-known consumer and/or business information sources;

Dot.com community sites;

Associations or other groups representing charities;

Online directory distributors;

Internet portals;

Accounting, law, and consulting firms; and

Educational institutions and trade associations.
We will approve link requests from these organizations if we decide that: (a) the link would not make us look unfavorably to ourselves or to our accredited businesses; (b) the organization does not have any negative records with us; (c) the benefit to us from the visibility of the hyperlink compensates the absence of LAZUR GROUP; and (d) the link is in the context of general resource information.
These organizations may link to our home page so long as the link: (a) is not in any way deceptive; (b) does not falsely imply sponsorship, endorsement, or approval of the linking party and its products or services; and (c) fits within the context of the linking party's site.
If you are one of the organizations listed in paragraph 2 above and are interested in linking to our website, you must inform us by sending an e-mail to LAZUR GROUP. Please include your name, your organization name, contact information as well as the URL of your site, a list of any URLs from which you intend to link to our Website, and a list of the URLs on our site to which you would like to link. Wait 2-3 weeks for a response.
Approved organizations may hyperlink to our Website as follows:
By use of our corporate name; or

By use of the uniform resource locator being linked to; or

Using any other description of our Website being linked to that makes sense within the context and format of content on the linking party's site.
No use of LAZUR GROUP's logo or other artwork will be allowed for linking absent a trademark license agreement.
Content Liability:
We shall not be held responsible for any content that appears on your Website. You agree to protect and defend us against all claims that are raised on your Website. No link(s) should appear on any Website that may be interpreted as libelous, obscene, or criminal, or which infringes, otherwise violates, or advocates the infringement or other violation of, any third party rights.
Reservation of Rights:
We reserve the right to request that you remove all links or any particular link to our Website. You approve to immediately remove all links to our Website upon request. We also reserve the right to amend these terms and conditions and its linking policy at any time. By continuously linking to our Website, you agree to be bound to and follow these linking terms and conditions.
Removal of links from our website:
If you find any link on our Website that is offensive for any reason, you are free to contact and inform us at any moment. We will consider requests to remove links, but we are not obligated to or so or to respond to you directly.
We do not ensure that the information on this website is correct. We do not warrant its completeness or accuracy, nor do we promise to ensure that the website remains available or that the material on the website is kept up to date.
Disclaimer:
To the maximum extent permitted by applicable law, we exclude all representations, warranties, and conditions relating to our website and the use of this website. Nothing in this disclaimer will:
Limit or exclude our or your liability for death or personal injury;

Limit or exclude our or your liability for fraud or fraudulent misrepresentation;

Limit any of our or your liabilities in any way that is not permitted under applicable law; or

Exclude any of our or your liabilities that may not be excluded under applicable law.
The limitations and prohibitions of liability set in this Section and elsewhere in this disclaimer: (a) are subject to the preceding paragraph; and (b) govern all liabilities arising under the disclaimer, including liabilities arising in contract, in tort, and for breach of statutory duty.
As long as the website and the information and services on the website are provided free of charge, we will not be liable for any loss or damage of any nature.
ORDER SUBJECT TO ACCEPTANCE
All orders are subject to acceptance by the manufacturer of the Product Line ("Lazur Bespoke"), at Lazur Bespoke's designated location for acceptance of orders, or via email.
PAYMENT
Production will not begin until a 50% deposit and required COM or COL are received by Lazur. All accounts shall be paid net when invoiced. Orders must be paid in full, including shipping, handling, crating, and packing, STORAGE, taxes, and service charges prior to shipping. A service charge will be imposed on any portion of the invoice that remains unpaid for thirty (30) days or more after receipt, at the highest amount permitted by law. Purchaser will be liable for all costs, expenses and fees, including reasonable attorneys' fees, incurred by Lazur in collecting any monies due hereunder.
Custom quotes are honored for a period of thirty (30) days from issuance unless otherwise negotiated.
All monies paid on account of this order shall be credited to the account of the name of Purchaser. Lazur's acceptance of payment from anyone other than Purchaser shall be an accommodation only and shall not create a vendor-vendee relationship, express or implied, with a payee other than Purchaser.
PRICES AND TERMS
Published prices are Net unless otherwise noted and are freight on board (FOB) point of origin. All FOB points are at the discretion of Lazur. The final FOB point will be stated on the order confirmation, and will be the FOB point used for all billing purposes. Prices do not include shipping charges, packing and crating charges, in-transit insurance, storage charges, sales or other taxes, local delivery, uncrating or installation. Custom pieces prices are Net. Lazur reserves the right to change prices without notice prior to order confirmation.
Standard lead time for production only is 4 to 5 weeks from Lazur's receipt of deposit & all relevant client approvals. Shipping time is additional. When custom pieces or stain-to-match finishes are specified, the 4 - 5 week lead time for production begins from the date of customer's approval of Lazur's drawing and/or sample match. If design is not determined by customer and Lazur has to create prototypes and develop a piece the lead time cannot be determined.
MATERIALS
Lazur reserves the right to make changes in design, construction, materials and dimensions, or to discontinue products without prior notice. Please note that all dimensions and yardage requirements noted and discussed are to be considered approximate. Due to the handmade construction of our furniture, in concert with the resilient materials and textile choice, variations from our published and custom dimensions can be expected.
CUSTOMIZATION
Lazur will customize most of its designs upon request and discussion. Any customization will result in an additional charge above the net price. Please contact Lazur for an exact custom quotation.
TERMS AND CONDITIONS OF SALE
Before an order is put into production, it must be confirmed by Lazur in writing and the required deposit must be received. Each customer's order will be processed as indicated on the order confirmation sent out by Lazur. If there is any discrepancy, the customer must advise Lazur within (10) ten days from the date of order confirmation. Lazur accepts no responsibility for COMs shipped to locations other than that given on our order confirmation and COM Forms. Order confirmation cannot be modified except in writing to Lazur. All orders are final.
CANCELLATION OF ORDERS
Charge backs, deductions, changes, cancellations, returns or refunds require prior written consent by Lazur. No returns or cancellations will be accepted on 'made-to- order' pieces. Lazur is not required to accept changes requested after the order confirmation. However, Lazur will accept reasonable changes to orders with the following conditions: 1) The request must be submitted in writing and received in time to be implemented. 2) Changes will be subject to additional charges for materials, labor, and administrative. Such orders will be subject to change, cancellation or stocking fees up to 50% of the Net Selling Price.
Under no circumstances may orders be cancelled after production has begun.
STORAGE FEES
Purchaser will receive notification from Lazur as to the date merchandise will be available for shipment. All orders will be shipped as ready. If Purchaser is unwilling or unable to accept delivery of merchandise, Lazur may transfer merchandise to storage. Purchaser is responsible for the cost of such storage and shall bear the risk of loss or damage to merchandise during such storage, as well as during delivery of same. Additional storage fees will be charged to store merchandise if not picked up within sixty (60) days from the date of final invoice.
METHOD OF SHIPMENT/DELIVERY
Unless Lazur is otherwise notified by Purchaser's written instructions, freight arrangements shall be made by Lazur on Purchaser's behalf. All such delivery, packing, crating, shipping, insurance, applicable taxes, and similar charges are in addition to the stated purchase price. All charges are PROFORMA and will be included on the final balance due notice. If the customer chooses to manage their own freight and delivery, Lazur must be notified of the specific details of the movement. The fee to move the product from a manufacturer to a terminal for "customer's own" pick-up will be added to the balance due. All products are moved through a Bill of Lading (BOL). The location of the pick-up by the client or the client's agent may trigger sales tax responsibility at that location. Manufacturer shall not be liable for delays caused by the shipping company. All quoted delivery dates are estimates only.
FREIGHT CLAIMS
Lazur is not liable for damages that occur during transit or for storage. The carrier assumes all responsibility upon acceptance of product. All shipments should be opened and inspected immediately upon receipt. Claims for damages, shortages or overcharges should be placed against delivering carrier by the buyer or receiver of goods. It is the customer's responsibility to inspect all products upon receipt and file and claims with the carrier. Do not accept the shipment until all shortages and carton damage are noted on both the bill of lading and the freight bill.
Concealed damage must be reported to the carrier within 15 days of receipt. Failure to make claims shall constitute acceptance of the products and waiver any claims of defects, errors or shortages. Hold product/packaging for carrier's inspection.
FORCE MAJEURE
Due to the artistic and custom nature of the manufacturing process, all quoted completion and delivery dates are estimates only. Manufacturer shall not be liable for delays in completion or shipment or default in delivery for any reason of force majeure or for any cause beyond Manufacturer's reasonable control including, but not limited to, (a) government action, war, riots, civil commotion, embargoes or martial laws, (b) Manufacturer's inability to obtain necessary materials from its usual sources of supply, (c) shortage of labor, raw material, production or transportation facilities or other delays in transit, (d) labor difficulty involving employees of Manufacturer or others, (e) fire, flood, or other casualty, or (f) other contingencies of manufacture or shipment. In the event of any delay in Manufacturer's performance due in whole or in part to any cause beyond Manufacturer's reasonable control, Manufacturer shall have such additional time for performance as may be reasonably necessary under the circumstances. Acceptance by Buyer of any goods shall constitute a waiver by Buyer of any claim for damages on account of any delay in delivery of such goods.
TAXES
Customers are responsible for all sales tax or related taxes that apply to their order. To obtain tax exemption, for resale purposes, a resale certificate must be provided.
CURRENCY
In the event of a significant change in the currency ratio (USD:EUR), manufacturer reserves the right to update pricing as needed to reflect that change. RECEIPT OF PRODUCT
Lazur highly recommends using a qualified receiving warehouse to receive, inspect, consolidate deliveries and facilitate in-home installation. All crated goods must go through a professional receiver such as a receiving warehouse unless otherwise agreed. A receiving warehouse acts as an agent for the client and is responsible to note any damage and assist the owner with filing a freight claim when any damage is found. A signature on the BOL upon receipt of the product confirms that the products are received in good condition unless exception is made on the BOL.
Prior to placing an order, Purchaser must verify that merchandise is capable of being delivered to the designated destination (e.g., will fit in elevator, upstairs, around corners, etc.). Merchandise will not be accepted for return for failure to verify moving dimensions.
TITLE / RISK OF LOSS
Title to merchandise passes to Purchaser upon Lazur delivery to freight carrier (unless otherwise specified). Lazur is not responsible for damage after the merchandise has been accepted in good order by the shipping company and is not responsible for damage sustained in transit. If damage is noticed when unpacking, notify the delivery company immediately for inspection including photographs of the damages. All visible damage should be noted by the recipient on the freight bill before it is signed by the recipient and the delivery company is possible. If the driver must "drop and dash", the receiver should note on the BOL that any concealed damage of boxes or crated products will be the responsibility of the carrier or the manufacturer as determined upon inspection of the product. Full inspection must occur within 48 hours of delivery and all freight claims filed within 72 hours. Do not destroy packing materials until they are inspected. Take photos of any damage to the packaging, this is necessary to resolve damage claims. Claims for such damage or loss must be made by the Purchaser/Receiver directly to the freight carrier in accordance with the Interstate Commerce Commission. Goods damaged in freight cannot be refused by the consignee. Such obvious or subsequently discovered damage must be reported in writing to the carrier in accordance with the applicable regulations and time limits. If merchandise is returned without you first having contacted the shipping company for inspection, no claim can be filed. Shipments returned to Lazur's workshop without Lazur's consent in writing will be refused and either re-delivered or stored at Customer's expense.
WARRANTY
LAZUR will warranty its product to be free from manufacturing defects, including workmanship, when assembled and operated according to operating instructions, for a period of three hundred and sixty (360) days from the date of original purchase. This warranty is nontransferable and applies solely to the original purchaser and does not extend to subsequent owners of the products.
WARRANTY IS VOID IF
Damaged due to negligence, abuse, misuse, accident, modification, tampering, alteration, faulty installation and/or acts of God. Modified or repaired by anyone other than LAZUR.
The extent of LAZUR, under this limited warranty is the repair or replacement of the product at the sole discretion of LAZUR in no event shall LAZUR liability exceed the purchase price paid by the purchaser. Under no circumstances shall LAZUR, be liable for any loss, direct, indirect, incidental, foreseen, unforeseen, special or consequential damage arising out of or in connection with the use of its products. This warranty is valid only in the United States of America. The shipping cost has to be borne by the customers for all replacements or repairs.
CLAIMS
There may be slight variations between the final product and a particular showroom sample or tear sheet with respect to the finish, color, tone, graining, or precise measurements. Certain hand-made products are by nature irregular. VHH's products will substantially conform to descriptions but are not guaranteed against wearing, color fading or minor variation in wave, color, tone, graining or precise dimensions. All other warranties, either express or implied, are excluded, including the warranties of merchantability and fitness for a particular purpose.
Any and all claims against Lazur, including defects, shortages and errors, must be made within fifteen (15) days after receipt of merchandise. Failure to make any claim against Lazur within such 15-day period shall constitute acceptance of merchandise and a waiver of said defects, shortages, errors and other claims. Lazur's liability shall not exceed the contract price actually paid to Lazur for such merchandise and Lazur shall in no event be liable for labor charges or any consequential or special damages.
All claims should be reported to Lazur Bespoke at 713-714-1303.
DISPUTES
All disputes which involve this Agreement shall be governed by the laws of the state of Texas. This Agreement contains all the terms and conditions agreed upon by Customer and Lazur which supersedes Customer's purchase order. No modification to this Agreement shall be valid unless in writing and signed by both parties.